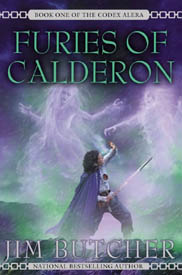 [
Originally written at Goodreads
]
A story of a boy Tavi, who is exceptional in his lack of identifyable talents. Where everyone has a semi-magical bond, he does not, and he survives on wits. And he does not have much of those either.
The story is in the backdrop of a insurrection, where one of the principles is one of the reigning governments greatest agents, who is set against a very talented protoge. What worked well was this sense of a insurgency raised by tribes along the frontier of civilization, where the wealthy center is mostly ignorant, and in the end the fight depends on the loyalties and goals of those who live on the frontier and not on the military who come from the center.
The characters are not as well developed as Jim Butcher's Dresden series. Of course, this is the first one. All of them have a tendency to slip into single-mindedness to the point of self-destruction (which is something that Jim seems to like). Maybe, like Dresden, they will learn as their characters become richer.